Shamrock SUP Race raises $1,300 for Youth to Ocean
From Staff Reports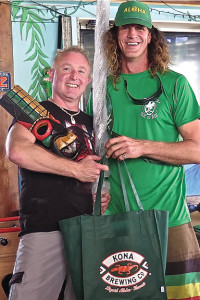 On a beautiful spring morning on the Folly River, Sunday, March 15, Charleston SUP Safaris
and Flipper Finders hosted the Fourth Annual Shamrock SUP (Stand Up Paddle) Race, to great success with 35 participants.
The event raised an estimated $1,300 for Youth to Ocean, an organization that provides environmental education and exploration of nature to youth.
"We would like to thank all of our SUPer sponsors: Loggerheads, Surf Bar, Rita's Seaside Restaurant Grille, and Vapor Apparel," said Jon Ory, owner of Charleston SUP Safaris. Prizes were donated from Liquid Shredder, Ocean Surf Shop, Lost Dog, and McKevlin's Surf Shop, Jackson Davenport, SUP ATX, and several Folly Beach restaurants.
Winners were as Followed:

Men's Elite 10k:
1st Place: Cory Taylor (56:50),
2nd Place: Don Alderman (61)
3rd Place: Adam Clark (63)
Women's Elite 10k:
1st Place: Danielle Goldstein (1:11:00)
2nd Place: Teresa Rogers (1:19:27)
Men's Recreational 5k:
1st Place: Ashley Starkey (41:48)
2nd Place: Ian Clark (56:42)
3rd Place Shawn Wilcop (57:25)
Women's Recreational 5k:
1st Place: Beth Lovett (43:42)
2nd Place: Jennifer Carver (48:03)
3rd Place: Sammie Arnold (49:41)

Men's Surf 5k:
1st Place: Tony Peters (46:17)
2nd Place: Rick Anson (47:42)
3rd Place Mike Evatt (53:25)

Women's Surf 5k:
1st Place: Diane Juras (69:33)
2nd Place: Lauren Cole (77:53)
3rd Place: Brandi Kine (87:48)

Youth Winner:
1st Place: Caleb Clark
2nd Place: William Rawlins

Dog Race:
1st Place: Jude Gelber & Irie
2nd Place: Jake Bedenbaugh & Buck
3rd Place: Tara Anderson & Lizzy

Best Costume: Teresa Rogers