Award-winning Coffee Table book is a love note to the island and people of Folly Beach
By Lorne Chambers | editor
Husband and wife authors Sheree and Russell Nielsen call their award-winning book, Folly Beach Dances – The Infinite Rhythms of a South Carolina Seashore, a "healing" coffee table book. When asked what that means, Sheree explains that  when they were wrapping up the book design, she was diagnosed with lymphoma. At that point she says the book changed from one of beautiful photography and lyrical poetry, to one of self-care.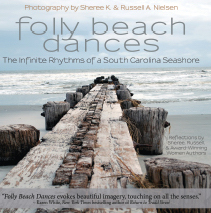 "It's about learning to heal, overcoming challenges, and growing spiritually along the way," says Sheree, who is an award-winning freelance writer, poet, and photographer for Missouri Life, AAA Midwest Traveler, AAA Southern Traveler, AAA Carolina Go! Magazine, and leads photography/writing workshops for veterans in conjunction with the Warrior Arts Alliance. She's been published in magazines, newspapers, anthologies and websites across the nation and Caribbean.
Sheree created Folly Beach Dances along with her husband Russell, who is also an award-winning photographer, who has a particular passion for shooting marine life and seascapes. While the couple actually resides in Missouri, they have a particular affection for the beaches of the Carolinas, and Folly Beach in particular.
The book is a visual and literary love letter to Folly Beach, along with lyrical movements and universal beauty — expressed through dance names. It tells the story of sandpipers, babies, dogs, and even structures moving in infinite rhythm. In addition to pieces from Sheree and Russell, there are contributions from five award-winning women authors included in the book.
"My inspiration for creating Folly Beach Dances were the three essays previously published in the Folly Current in 2010, representing my love affair with Folly Beach," says Sheree. "In the book's prologue, I talk about how life embraces balance and movement all around me on the beach — whether it's in the kiteboarder slipping down the shoreline, or seagulls soaring overhead."
Recently Folly Beach Dances was awarded The da Vinci Eye Award, from the Eric Hoffer Awards foundation, which recognizes excellence in book cover design. Each year, six books are selected for this honor. "I captured the photograph for the cover, and my book designer, Kristina Makansi of St. Louis worked her magic and pulled it all together," says Sheree. "Since this is our debut book, I am elated, honored, and grateful."
As a  lymphoma  survivor, Sheree and her husband have dedicated Folly Beach Dances to beach lovers, dancers, dreamers, the residents of Folly Beach, and those with ailments. Debbie Kersting, the Gateway Chapter Director for the Leukemia and Lymphoma Society wrote the foreword for the book. And they are donating 10 percent of every book sale to the Leukemia and Lymphoma Society.
The Nielsens have also been visiting a particular North Carolina beach for the last three years, capturing photographs for their second coffee table book in the Beach Dances series. "Also, I'm working on an inspirational essay collection, my journey about how we're all connected to each other in life, says Sheree. "The positive essays reminisce about scuba diving and beach adventures, nature, family, and God things."
Folly Beach Dances – The Infinite Rhythms of a South Carolina Seashore is available at various locations on Folly Beach, Charleston, and Mt. Pleasant. For more information, visit www.beachdances.com.