Farewell to Folly's Dance Pier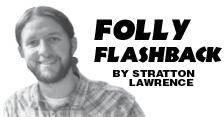 On Nov. 2, 1977, Folly's massive dance pier burned and fell into the ocean. "There is no doubt in my mind that it was arson," says Wallace Benson, the city's chief of police at the time. Benson's suspicions stem from a nearby resident who lived in a trailer and whose wife was known to get 'excited' by fire. When he got the call, Benson walked out onto Center Street and saw the flames go 'sky high.' He and his team actually entered the building to aggressively stop the fire, but quickly realized their efforts were futile. Wind had swept the fire below the pier, and firefighter Rex Whitcomb fell through a hole that emerged. Benson managed to pull him back to safety just before rushing to escape the inferno. Thus, two local boys who grew up on the island became the last to ever walk on Folly's famous dance pier. The picture to the left shows Benson in front of the pilings the day after the fire. The shot on the right shows the remains of the pier. Some residents claim the beach never was the same after the pier burned.
Images by Robert Grooms, courtesy of Wallace Benson. Images like these are included in Stratton Lawrence's book, Images of America: Folly Beach. To purchase your own personalized signed copies or to share a photo and story for next month's Folly Flashback column, email Stratton at strattonlawrence@gmail.com.