Folly Current's Founding Editor Passes Away
by Kristin Hackler | Special to The Folly Current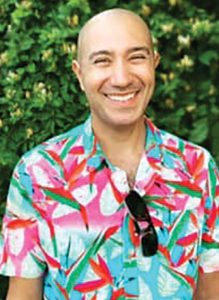 It was early 2008, about two and a half years into my tenure at Lucky Dog Publishing. Ali Akhyari and I were sitting in our Sullivan's Island offices above Station 22 restaurant, slumped in second-hand chairs and fighting the urge to follow the warm salt breeze out to the wide, quiet beach.
"Times?" I asked, tossing a crumbled paper ball in the air.
"No, too boring," Ali said. "How about Gazette?"
I shook my head, "Too country for Folly Beach."
We stared at nothing.
Suddenly, Ali sat up, grinning in a way that his friends all knew as the "pun smile."
"I've got it," he said. "Let's call it The Current."
Our intern graphic designer, Daniel Bein, sketched the masthead that day. Palm tree, sunrise, a surfboard … it was perfect.
Later that evening we celebrated over beers at the Tin Roof in West Ashley. Ali was beside himself. He loved every inch of Folly Beach, had lived on it for a while in a rented room that just barely held his king-size bed and nothing else (His then-girlfriend, Austen, would tell me how she had to climb through the window some days just to get in). He served on the litter crew collecting trash along the shore, surfed the Washout if the water even hinted at good waves, and spent hours on the beach writing longhand short stories about salt and pain and love and beginnings, and the ashen rain at the end of the world.
In his heart, he wanted Folly to be as beautiful and true to its people as he believed it could be. As we dove into production, he attended every council meeting, held a light up to the council members, and asked deep-digging questions, spoke with and revered residents for their uniqueness just as much as he highlighted local businesses and their efforts on the island. He brought insights into the profound beauty of nature fluttering and splashing in the sweetgrass, dashing down mud banks, and washing up unexpectedly onshore. He connected with Folly in a way that felt so natural, it was as if the newspaper had always existed. He welcomed letters to the editor and never held back on what was published — underdogs and governing forces alike.
In looking back over the dozens — if not hundreds — of articles he wrote for The Folly Current in her nascent days, one in particular stood out to me. It was about the commemoration of the David Israel Garden behind the Folly Community Center in 2009, which he always enjoyed visiting. The article tells the story of David and how the garden was named for him thanks to the many donations received on his passing. He didn't want flowers at his funeral, his partner, Michael Norton, explained. Flowers would die. Better to put a little toward planting new life, instead.
In closing, Ali wrote:
"It is the sad habit of human beings to realize the true value and impact of a person only after they are gone. Long after the memory of David is gone, he will continue to touch others through the Memory Garden. It may become the inspiration for a poem. It may provide comfort to a stranger. It may be the site of a first kiss where a new love will blossom. But it is the memory of love that built the foundation of the garden, and the strength of human compassion that made it possible."
The fact that David's passing brought life to Folly spoke deeply to Ali. It was what he wanted as well, and not long before he passed in late September, he told his wife, Austen, that he wanted to be buried in a way that he helped a tree grow. And that's exactly what she did.
On in a little Intracoastal island, in an old maritime forest, he now rests beneath the trees. And with every sunrise a part of him helps the island grow. In so many ways, the earth is a far better place because of him.
Ali passed away after a motorcycle accident in McClellanville, Sept. 27, 2019. Two days later, the Post & Courier ran his obituary:
Ali Rezza Akhyari CHARLESTON — Ali walked barefoot to be closer to the earth, closed his eyes to feel the wind, and wrote philosophical prose with lyrical beauty. Survived by his wife, Austen, his daughter Vivian Rain (7), and son Cyrus Love (4), he loved nothing more than his babies' warm hugs, his wife's soft kiss. His heart was unmatched, his friends prolific. He had so many questions for God and at 39, they're finally being answered in full. Ali, you are loved more than you ever knew.
A NOTE FROM THE EDITOR:
I had the privilege of knowing Ali Akyari both as a friend and as a fellow journalist. His curiosity and sincerity made him a great reporter, while his passion and creativity made him a natural storyteller.
It's safe to say that there would not be a Folly Current without Ali Akyari. After all, it was his vision to bring a community newspaper to Folly Beach. So when my
wife Lindsey and I took over as publishers of The Current in 2016, we were merely agreeing to carry a torch that Ali had lit nearly a decade prior. For that I will always owe him a debt of gratitude. And I hope that we may honor Ali by continuing to offer the citizens of Folly Beach a voice and to continue to produce a newspaper that he would be proud of.  — Lorne Chambers