By Jennifer Tuohy | Contributing Writer
The City of Isle of Palms is leading what looks likely to be a chorus of disapproval from area coastal towns against the government's proposal to lease waters offshore of South Carolina for oil and gas development.
The draft proposal includes a plan for a five-year lease starting in 2017, ending a 30-year ban in the area. IOP passed a resolution opposing the proposal at its February council meeting.
Patrick O'Neil, the mayor of neighboring Sullivan's Island, told this newspaper that the town's council had also discussed the issue.
"We will have a resolution on the agenda for our regular meeting on March 17 to express our opposition to that project, assuming we have a majority vote on council in support of the resolution, which I'm pretty sure we will," he said.
The mayor grew up in south Louisiana and says he has seen the "good, the bad and the ugly with oil drilling and exploration."
"I can tell you there's just no way that kind of an enterprise will fit in with what we have here in terms of the development we have and the environmental protections we think are so important," he said.
The barrier island towns of Kiawah and Seabrook have not yet considered their positions on the matter publicly; however discussion of the potential impacts of the proposal will likely be on the agenda for Seabrook shortly.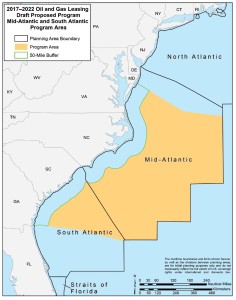 "At [our last] meeting I brought up the topic of offshore drilling…" Mayor Terry Ahearn told The Island Connection newspaper. "Although it would be an easy decision to say that we were against it, it would not be a considered decision.
"What are the local, regional, state and national interests? How many (number and percent per year) accidents have there been when oil reached the shore? What are the short term and long term effects of such accidents? Where are the leased areas to be in relation to our shores? We need answers to these questions and more to make a considered decision," Mayor Ahearn said. "Therefore, we decided to talk to our neighbors at Kiawah Island and see if they were interested in both of us sponsoring some sort of seminar/debate conducted by knowledgable people on both sides of the issue in order to know more before we took any action." Ahearn said he has scheduled a meeting with Kiawah's mayor for March 23.
Charles Lipuma, mayor of Kiawah told The Island Connection that his council has also not discussed the matter yet.
"In formulating a position, Town Council would want to discuss this matter with Community Association and other major Kiawah organization and our neighbors on Seabrook Island," he said in an email.
Other coastal South Carolina towns including Edisto, Beaufort and Port Royal have already passed resolutions similar to that of the Isle of Palms, which was brought forward by IOP councilmember Jimmy Ward.
The resolutions all oppose the concept of offshore drilling and the use of seismic air guns to explore for oil and natural gas and are in direct response to the draft proposal from the Bureau of Ocean and Energy Management.
The proposal includes 14 potential lease sales in eight areas, 10 in the Gulf of Mexico, three off the coast of Alaska and one in a portion of the mid and south Atlantic.
"The safe and responsible development of our nation's domestic energy resources is a key part of the President's efforts to support American jobs and reduce our dependence on foreign oil," Secretary of the Interior Sally Jewell said in a press release. "This is a balanced proposal that would make available nearly 80 percent of the undiscovered technically recoverable resources, while protecting areas that are simply too special to develop."
The proposal for lease sale off the shore of the Carolinas would require a 50-mile coastal buffer to minimize multiple use conflicts, such as those from Department of Defense and NASA activities, renewable energy activities, commercial and recreational fishing, critical habitat needs for wildlife and other environmental concerns.
Before the program is finalized the BOEM is seeking public input, and representatives and organizations across the Charleston area have been expressing their opinions. Governor Haley supports the plan because of perceived economic benefits.
"Governor Haley has always been a strong supporter of offshore exploration of oil and gas—it's good for jobs—in a way that preserves our local environment, our ports, and our tourism industry," Haley spokeswoman Chaney Adams told The Post and Courier.
Representative Mike Sottile is concerned however that there is not enough economic benefit to outweigh the environmental risks.
"The environmental issues are big," he told The Island Eye News. "We've got some of the most pristine beaches and marshes and estuaries up and down the Carolina coast. The last thing I want to do is disturb that. "I think there needs to be more studies done. I think the revenues are exaggerated as to what we would get from off shore drilling. There's not enough benefit that I know of compared to what could happen if something went wrong," he said. "If we had a disaster it would knock out the tourist industry for years. You saw what happened in the Gulf Coast. As a former mayor of Isle of Palms I know how heavily it depends on its tourist industry."
Environmental organizations including the Coastal Conservation League and Oceana are also concerned about the environmental risks and the potential adverse effects on the local economy.
"Seismic blasting can displace fish stocks putting fisheries at risk, and can be very bad for marine mammals," Oceana South Carolina representative Samantha Siegel told Isle of Palms' City Council. "Without citizens and elected officials like you standing up for our coast we could see offshore oil rigs very soon. The small amount of oil and gas located off the coast of South Carolina is not worth the amount of disruption it will cause."
"Public input has historically been very effective in influencing decisions regarding offshore drilling," Seabrook Island resident Richard Wildermann wrote in a blog post last week. Wildermann worked for over 25 years an environmental specialist and program manager for the U.S. Department of the Interior's Offshore Oil and Gas Program.
"For example, public opposition to oil and gas development offshore California galvanized after the 1969 Santa Barbara oil spill. That opposition was well organized, well informed, articulate, tenacious, and successful. Although development continued from existing platforms offshore southern California, no new leases were issued after 1981, and no new exploration has occurred," he wrote.
Additionally, areas off the Pacific coast have not been included in this draft proposal because of the long-standing opposition Pacific coast states have held to oil and gas development off their coast.
BOEM is holding a public meeting in Mount Pleasant on March 11, 3-7 p.m. at the Wyndham Garden, 1330 Stuart Engals Boulevard. Public comment can be made at BOEMOceanInfo.com, BOEM's comment docket at regulations.gov and via mail to Geoffrey L. Wikel, Acting Chief, Division of Environmental Assessment, Office of Environmental Programs (HM 3107), Bureau of Ocean Energy Management, 381 Elden St. Herndon, VA 20170-4817.