Seven candidates vie for three Folly City Council Seats
By Bill Davis | Staff Writer
Folly Beach residents will have a full ballot to choose from Tuesday, April 5, when they step into voting booths to fill three City Council spots.
Councilmembers Tom Scruggs and Sandy Hickman are stepping down, and Councilman Eddie Ellis is seeking a fourth, four-year term. Scruggs is also currently the mayor pro tem of Council.
Whoever wins the three spots will face a series of tough decisions over the next four years, with issues including beach renourishment, protecting Folly's character and environment, and balancing progress with quality of life issues, like the proliferation of festivals in the off-season.
The seven candidates are, alphabetically, Keith Bolus, Ellis, Laurie Hull, Teresa Marshall, John Merritt Jr., Zachary Papaioannou, and Roger VanDyke.
On Tuesday, March 15 all the candidates, except Papaioannou, participated in a  packed "Meet The Candidates" forum hosted by the Folly Beach Civic Club at the Folly Beach Community Center.
Then on Thursday, March 24, all seven candidates appeared at another public forum at the Tides' main convention room. The event was sponsored by The Folly Current and the Folly Association of Business for a spirited, informative, and wide-ranging debate.
Close to 100 locals showed up, as did a crew from Live 5 News. But since not everyone from Folly could make it, included are some short profiles to help voters learn more about the candidates and their positions on the important issues facing Folly Beach.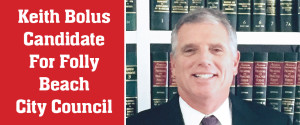 By his own admission, local attorney Bolus has been nicknamed the "anti-festival guy" due to his stance against festivals, but he said it doesn't accurately represent his position.
"Ten years ago City Council and business leaders said we needed the festivals to help business survive through the winter. That was 10 years ago, and it's probably not the case anymore," said Bolus.
Bolus pointed to a recently completed economic study of Folly conducted by the College of Charleston, which found that the small city has a major economic impact and has enjoyed significant increases.
By comparison, the year-round population of the island is largely unchanged, Bolus said, shifting the focus of Folly to visitors and away from permanent residents. More and more, he said, homeowners are leaving and converting their residences to short-stay rentals.
Bolus lost his Center Street office to just such a switch.
"It's unsustainable, like a dog chasing its tail," he said, adding that the lack of a single empty piece of commercial property on Center Street proved the city has reach a saturation point.
Bolus insisted, however, that it is beach renourishment and not festivals that is far and away the most pressing issue facing Folly, with the cost of bringing in more sand not shrinking and an end of the agreement with the U.S. Army Corps of Engineers looming in 26 years.
"And that's only if the federal government has funds available," said Bolus, adding, "without the beach, we'll have nothing left."
Bolus wasn't interested in the recent vote to double councilmembers salaries: "I m not running for Council for the money, in fact I'll be losing money. I'm a lawyer, and I know what it takes on an hourly, a weekly basis to serve the city."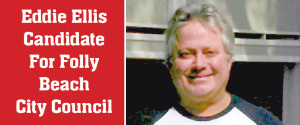 Ellis' fingerprints are all over a great number of new city laws over the past decade, because, of course, he's served on Council for the past 12 years.
He claims authorship of the no-more-condos bill, as well as the removal of the pilot tax for water on homes, and was part of the process that hired Folly a lobbying firm to fight in Columbia for the city, among many others.
Ellis proudly points to the "huge growth spurt" Folly has enjoyed during his 12 years on Council, when he helped protect the environment by shepherding efforts to limit building heights and proximity to the water, brackish and otherwise.
As the only incumbent in the race, he has a unique perspective among the candidates as to what it takes to do the job. His tenure has not been without some controversy; despite his years of service, he's been censured for comments he's made publicly, and took criticism for using his city email for his campaign contact this year.
Ellis moved to Folly in 1992, and takes a long-view on solving issues vexing not only Folly, but also the surrounding area. "There's no 'one' solution: it's a jigsaw with lots of pieces to it," said Ellis.
"I support the residents and them having a higher quality of life, but we are all in a symbiotic relationship with our local businesses, as they support so much of our tax base," said Ellis, who clarified his position by saying that he does not support loud music until 2 a.m.
Ellis thinks a good way to further improve the island is to fight for an "enhanced" county park, which "draws more and more business and more and more visitors."
City Hall, he said, has to strike a balance, too. "We need to let residents work on their homes, and be able to improve their maintenance without being over-regulated."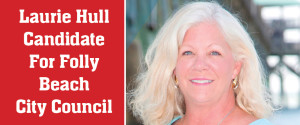 Hull's route to Folly was a bit circuitous. A big-city advertising professional, she and her husband relocated to Isle of Palms in 1993, lived there for a year before falling in love with Folly and moving here.Since then, she's worked in real estate and has served on the Parks and Recreation Department.
Like Bolus, she has no desire to beat the dead horse of increased Council pay. "It's not up to us; they've already done it." She said those who are upset about it "maybe have nothing else better to get upset about."
Like many of the other candidates, Hull puts beach renourishment as the top priority. But she said that number two would be maintaining Folly's greenspaces.
As for funding beach renourishment going forward, Hull said she wouldn't have all the answers until she is elected, and goes through at least one budgeting process. Once on the "inside," Hull said she'd have a better idea of streams of money going forward.
She does want to make sure the city has a plan for the next storm in place, not to start crafting one when a storm hits. Last year, huge amounts of the island's sandy beach were washed away due to not only accretion, but also due to Hurricane Joaquin.
Without proper financing and plans locked down, Folly could lose some of its vital character, said Hull. "We want to make sure that the over 1,000 year-round residents stay, and that we not give them any reason to leave; we don't want to become a resort."
The tourist industry is a double-edged sword, according to Hull, as it brings money it also brings livability, traffic, and parking issues. "I think there is also an opportunity to somehow turn the traffic into revenue," Hull said, before laughing off the issue of a "bridge troll."
"We just have to find a way to do it."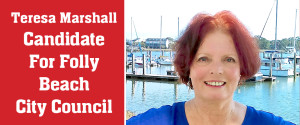 Teresa Marshall would like to give a big "green:" thumbs-up to more cultural events on the island, versus increasing the number of festivals taking place on Center Street.
"We don't need to add more on the street events side," said Marshall, the head of the Folly Green Team who also directs the island's community garden. "I think we can certainly look to cultural events, like the Jazz Festival to extend the Folly tourist season."
Events like that, she said, would create more opportunities where visitors could spend their money on Folly.
And Marshall said there's going to be more and more people coming to the island in the future, judging from in-migration statistics for South Carolina. To accommodate both locals and visitors, Marshall said she'd like to see gravel sidewalks down one side of the roads to protect pedestrians.
Being supremely involved in a host of volunteer positions, Marshall said she's seen the power of what can happen when everyone works together.
"That's one of the main reasons I'm running for City Council: I believe if we're all working together and not working separately, we can bring some positive attitude to City Council."
The retired special education teacher said that she'd make sure to listen to every citizens' concerns, but that she'd pledge to always vote for what was best for Folly, even though it may not be something some residents like.
Marshall supports the festivals, and thinks it unwise to try and do away with any of them. She delivered special praise to the city's public safety department for making the festivals safer and safer, and for putting into action plans that have made their impact on traffic less and less.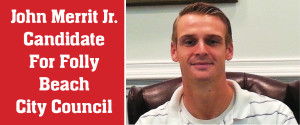 Getting elected to City Council is about the only thing that could lengthen John Merritt's list of contributions to the city. On top of working two jobs on the island – landscaping and linens delivery – nearly every moment of his personal time seems to be devoured by public service.
A member of the Green Team, he is also a member of the Folly Association of Business, the Civic Club, and is secretary of the Exchange Club. And on top of all that, he also personally runs the video camera at all public meetings. He also currently serves on the Folly Beach Planning Commission, and lost a bid to Council two years ago.
Merritt championed the protection of Folly's character, saying the "characters" on the island play a large part in defining the quality of life here.
He knows that one day the federal renourishment contract will run out, but said he's proved through his various fund-raising efforts that the money can and will be found.
"With a larger amount of people come to the festivals and then to the island" for vacations will determine how much the city can raise, according to Merritt.
With a long family history on Folly that stretches back to the 1960, Merritt thinks the island has just the right number of festivals, that it has hit its saturation point. He said that keeping everyone on the same page as to the public's safety at these events is key to their continued success.
With the exception of a couple years off-island to attend school and play college baseball, Merritt has spent nearly his entire life on Folly Beach. And he plans on spe nding more years to come, and filling those years with service, whether or not he gets elected to Council this year.
Zachary Papaioannou's past is about as colorful as his present. Originally from Rhode Island, he attended N.C. State in Raleigh, earning a degree in landscape architecture.
These days, he's a partner in two Center Street businesses, including a frozen yogurt shop, which may soon include a lounge in back.
"I'm a big believer in younger people being more involved in the community," said the 28-year-old. "I respect the wisdom that comes with age, but at the same time younger individuals should be given the opportunity to present a different set of ideas."
Papaioannou described himself as a "huge" supporter of festivals, saying that is what makes Folly so "unique." They bring in money and enjoyment for visitors and residents alike, he said. "They're priceless; they need to stay on Folly … and they're not too much of a strain" on locals' livability.
Papaioannou singled out the sanitation workers for helping limit the impact festivals have on the community. He sees festivals representing an indispensable part of the city's budget.
Papaioannou loves the "boho" style Folly affords, even though he arrived at the candidate forum last week decked out like an international playboy, replete with spiked hair, flipped collar and a confident air.
He has taken his aversion to the recent pay raise councilmembers voted in, saying all those salaries should be returned to the community. "This job should be a labor of love," Papaioannou said.
Papaioannou said if he were elected, he would be truly democratic, treating those with "$10 million in the bank or just $10 in the pockets" exactly the same, and basing his decision on what's best for Folly, and not just one specific group of people.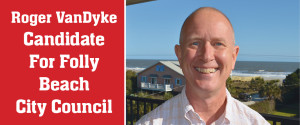 Roger VanDyke and his wife have been coming to Folly for close to 30 years for vacations from their jobs being nurses for the federal government in various agencies.
In 2010, with the real estate market close to the bottom thanks to the Great Recession, they bought their own place here.
From the day he first got here, VanDyke has felt the urge to serve, to get involved. "I thought if there's anything I can, this is the place; maybe I'd run for mayor, I thought. And then this City Council seat came up."
Other than councilmembers being a little more responsive, VanDyke said he's had no problem with city government. "I just think I could do a job that everyone will appreciate and make the city a little better for everyone. I'm all in; this is where I am going to die."
Groins, he said, will become an important tool once again to fight the ocean robbing Folly's sand.
VanDyke doesn't put as much stock in worrying about Folly's character changing too much, thanks to its size. "IOP has a huge commercial area; we don't have room for that."
He also said with so much of the island being privately and locally managed, there's even less of a chance of Folly going down the same bland road as Isle of Palms.
Festivals, VanDyke said, are a part of folly, and one of the reasons people come and visit. He also likes that they help the businesses carry through the winter's slow period. Without them, then Folly, he said, would see businesses posting signs saying "Closed 'til Spring" in their windows.
VanDyke would like to get a medical response unit for Folly. "Can you believe there is no ambulance on the island; that's important work that's got to get done."