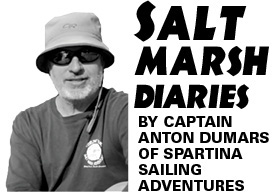 Many years ago, I saw my first roseate spoonbill in the Atchafalaya Delta, South Louisiana. I wasn't a birder at the time. In fact, the spoonbill was pointed out to me by my mentor, Ivor. Ivor spent years researching natural processes in the Atchafalaya, including its wildlife. Because Ivor showed me, I remembered the bird.
I knew roseate spoonbills occasionally foraged in Lowcountry salt marshes. I also know people who've seen them. As I evolved into a casual coastal birder, I hoped to spot a local spoonbill of my own. Even a casual birder needs a good pair of binoculars and a legitimate bird book.
A decent camera with a long-reaching telephoto lens is helpful, especially for recording details.
In birding, details count. For example, many small beach-skittering birds look similar. But subtle details, such as leg color, beak size and color, and feather patterns, distinguish a Wilson's plover from a piping plover. A bird's age, gender, and season identified also matters. Red knots in spring breeding plumage, passing north en-route to arctic nesting grounds, look much different than those heading south to Patagonia in the fall.
Roseate Spoonbills occupy mid-latitude wetlands between North and South America. In summer months, spoonbills range as far north as Montreal. Their range shrinks towards the equator in the winter.
This June, I finally spotted my second (and first local) roseate spoonbill foraging along the Stono River. Two days later, I saw several more along the Mackay River near St. Simons Island, GA. These birds, with their bright pink plumage, stand out against the muted grays and greens of the salt marsh. They catch fish by feel, swinging their partly-submerged spoon bill from side to side through the water. Roseate spoonbill numbers increased as we moved south into North Florida, with the highest concentrations near St. Augustine, Florida. 
Captain Anton DuMars is a longtime Folly resident, coastal geologist, and casual birder. Come take in an October sunset aboard S/V Spartina. Contact Anton at sailspartina@gmail.com and visit sailspartina.com.