Folly's Freshman

 c

ongressman Joe Cunningham

 g

ets his feet wet
By Lorne Chambers & Bill Davis | Folly Current Staff Writers
Freshman Congressman Joe Cunningham (D-SC. 1) has had an eventful first month in office. Despite walking straight into the longest government shutdown in U.S. history, Cunningham has been busy trying to make good on his campaign promises. Mainly, making sure that offshore drilling will not happen off of Folly Beach or anywhere on the South Carolina Coast.
On Tuesday, Jan. 8, Cunningham was joined by City of Folly Beach Mayor Tim Goodwin and a host of other local lawmakers, mayors, and environmental groups at Shem Creek as he held a press conference announcing his plan to introduce the Coastal Economies Protection Act, calling for a 10-year moratorium on offshore oil and gas drilling and seismic airgun blasting. He then left the pristine marshes of the Lowcountry and headed to the swamp that is Washington D.C. But he didn't go alone. Cunningham took with him a mixed six-pack of local beers from Charleston Breweries, including Coast and Westbrook. When he tried to take the beers on the House floor, he was told that was a big no-no. Cunningham was trying to take some local beers to U.S. Rep. Peter DeFazio, (D-Oregon), co-chair of the House's Small Brewer's Caucus.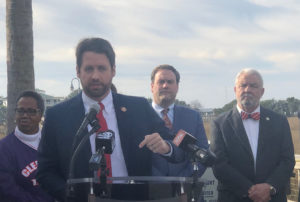 Some media outlets gave him the nickname Joe Six-Pack, a moniker that resonated even more thanks to his campaign brewery tour, which took him to several local breweries in his district. A district that was drawn as a gift to the GOP, yet still voted for the democratic political newcomer for a host of reasons politicos are still struggling to accurately define: her gaffes on offshore drilling, lack of support from her national party, his good looks and refusal to take political action committee money, and so on.
Regardless of how it happened, Cunningham has been hard at work in Washington with his eye firmly fixed back home on the Charleston coast. On Wednesday, Jan. 30 Cunningham delivered a speech on the House floor applauding the work of a group of young activists called the James Island Ocean Actkidvists. These four James Island children made it their mission to protect our oceans and marine life from plastics pollution and educate the Lowcountry community, young and old, on the dangers of single-use plastics..
The Folly Current caught up with Cunningham recently as he was getting ready to move up to Washington. We wanted to know his priorities when he got there. Cunningham underscores that he didn't run for office to impeach President Donald Trump. "That's not our focus; the Mueller investigation needs to continue, but that has zero to do with increasing healthcare, building infrastructure, or stopping offshore drilling."
That Cunningham is striking such a conciliatory tone makes sense on one hand: he is serving in a Republican district as a Democrat. If he wants his tenure in Washington to go past two years, he'll have to make the case that he can deliver on issues important on both sides of the aisle.
That being said, he may also be attempting a risky balancing act that could result in both Dems and GOPs bombing on the very junior congressman. But he stuck the landing on his balancing routine into a seat in Congress and seems to be handling the pressure just fine.
Some have cast his win as proof that the Lowcountry hates offshore drilling more than it loves Donald Trump, whom Arrington strongly aligned herself with, and flip-flopped on her stance on drilling later in the race.
"I would say the offshore drilling issue certainly played a part," says Cunningham. "But our camp also ran on local issues, and set ourselves apart from the 'D.C. narrative' … it offered a stark contrast."
With a two-year term, Cunningham will undoubtedly face a tough re-election in 2020. It's not something he wants to think about right now, there's a lot of work to be done before then. And he doesn't seem eager to restart his fundraising, in which he trounced Arrington in 2018. "I just sent back some PAC money," he says. "I rejected it on the campaign trail, but it's still ongoing," adding that he would continue to fundraise in the future from individuals.