Riding Out the Storm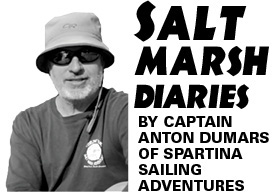 This time of year, I constantly monitor the National Hurricane Center website for Atlantic storm activity. I watched Hurricane Dorian form east of the Bahamas, then grow into a monster cyclone almost overnight. It came ashore on Elbow Cay as a Category 5 storm with unprecedented 185 mph winds. After smacking down the Abacos, Dorian moved west, then stalled over Grand Bahama Island for a relentless 50 hours.
As Dorian thrashed the northern Bahamas, I reminisced about our sailboat journey to Abaco two summers ago. We first landed and cleared customs at West End. From there, we headed east to the hub of Abaco. Along the way, we made anchor stops at Manjack Cay, Green Turtle, and Great Guana. We moored in the protected harbors of Hopetown and Man-O-War. Dorian gobbled these places up.
Finally, as predicted, Hurricane Dorian started creeping north toward Charleston. We began prepping for her visit. I moved cars and stowed loose items that might blow away. Julia gathered drinking water and made ice. I charged flashlight batteries and secured Spartina to the dock with extra lines.
By Wednesday afternoon, Dorian's outer rain bands and strong wind gusts began brushing against the lowcountry. I made one last trip to the Marina for a look-around. As strong gusts hit me, this storm seemed different. A bit of fear crossed my heart when I suddenly realized that if Dorian struck here, I may not be able to protect us against her.
Forty knot wind and rain lashed Folly for twelve hours, causing considerable damage, but nothing compared to what our Bahamian neighbors endured. Dorian took her predicted north-east dog-leg just off our coast and mostly spared Folly Beach. One little shift west and Folly would've been in big trouble. I got lucky. We got lucky.
I've heard it said that a big 4-wheel drive truck just gets you stuck deeper into the woods. We've all come to trust increasingly accurate hurricane models. We stayed because we trusted the model. This time it worked out. Hopefully next time, I'll have sense enough to leave before I get us stuck deep into the woods.
Captain Anton DuMars, a coastal geologist and long-time Folly Beach resident. Contact Anton at sailspartina@gmail.com