Stormy Skies a Good Omen on your Wedding Day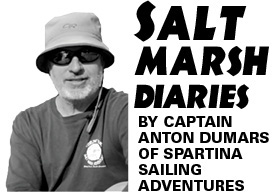 As I motored the Pluffmudder away from the slip, I glanced at the radar screen — scattered, intense storm cells dotted landscape. These separate cells were different than a typical expanding singular-blob summer afternoon thunderhead. Usually, heat-driven afternoon storms build over North Charleston and expand outward. Today's scattered cells gave me enough confidence to leave the dock, but enough aprehension to fear an ambush by one of those intense cells, each one capable of 50-knot winds and sideways rain.
Aboard today was a wedding party of 20 headed to Morris Island. Though a capable passenger-carrying vessel, the Pluffmudder wasn't made to land onto a beach, especially at high tide. So Capt. Weatherly aboard the Tideline stood by to assist with passenger transfer to the beach.
Since the 33' Pluffmudder couldn't land Landing the 33' Pluffmudder onto Morris Island's against a steep low-tide bank works well. Landing her onto a high tide beach won't work. With the wedding date inflexible, landing would occur during a full-moon high tide. This landing required two vessels.
After an hour underway, Morris Island lay ahead half a mile down Lighthouse Creek. Capt. Weatherly, aboard the Tideline, waited for us near the shoreline. Just about then, one of the feared storm cells ambushed from the south. In an instant, air temperature dropped, the wind gusted past 30 kts, and sideways rain soaked everyone. Five minutes later, the sky cleared. 
Dancing in a heaving swell, Captain Weatherly brought the Tideline alongside the Pluffmudder. Fenders deployed and lines across, the boats gently nested together, all while remaining underway. I steered the Pluffmudder-Tideline raft toward calmer water near the shoreline as Mate Molly and Capt. Weatherly ushered dresses and high heels safely from one vessel to the other. Once landed onto Morris Island, the party stepped from the Tideline onto the beach, then assembled in wedding formation.
Just then, the sun appeared from behind a cloud to light up the Morris Island Lighthouse. Two rainbows arched across the sky. Cheers from the beach signaled us to gather guests. Safely back aboard the Pluffmudder, the mother of the bride relaxed with several glasses of champagne. Others joined. Smiles and laughter accompanied the rain soaked wedding party all the way back to the marina. Then they departed, moving on to life. Rain on a wedding day brings good luck, I hear.
Anton DuMars is a longtime Folly resident and coastal geologist. Though they probably already have names of their own, Anton has assigned names to several local dolphins. Contact Anton at sailspartina@gmail.com or visit www.sailspartina.com.