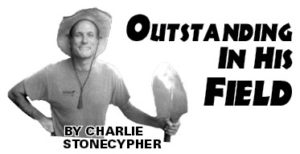 Hello My Friends, before I start my ramblings I would like to throw a big shout out to You, the readers for taking the time to read these articles and the great response I've had and the cool people I've met because of it. Also much Love to the Folly Current and all it's staff for really capturing the spirit of the beach every month.
Many dread doing yard work, or reconstruction, cleaning, etc. but there is a way to make a dreaded upcoming task bearable, (maybe even fun.) They say it's the little things that make a difference in our lives and I'm rediscovering that. Try this: On an upcoming project that is out of your comfort zone why not talk to someone familiar who is good at it and get some tips on the work, mistakes to avoid, etc. Take Notes. 
Don't get your materials the day of scheduled project. You do not want to be running back and forth on game day. Vendors can be inconsistent as well. 
Time is money, pack a lunch. Make it a good one worth taking a break for. By this I don't mean a huge lunch but better quality. If others are involved bring enough for them, even it's  just snacks and drinks. People love unexpected kindness. Even if you're working solo, you're worth it aren't you? Drink lots of water. The other day I was buying oranges for a snack  and was about to grab the cheap bag and said, "C'mon Charlie, drop a few extra bucks on the sweet, nice ones that you'll actually enjoy after peeling." It was well worth it. It turns out everybody else had been eating cheap oranges and were not that crazy about them until that day. Go the extra mile and the world will follow.
Morale is huge in our pursuits. Both for us and any others involved. Of course there's a tipping point where there's too much fun and games and the productivity curve goes down but do your best to find that line and ride it. I hope you all have a great February and let's get everyone's morale up. Start with yourself.
Aloha My Friends!
Charlie Stonecypher is the owner of Suncoast Irrigation and Landscaping. They specialize in products that work  smart without wasting resources.  Contact him at (843) 327-8642 or email suncoastirrigation@gmail.com.